If you're a longtime tenant of a building managed by Roque & Mark, you've likely heard the same voices answer the office phone for decades, or had your faucet fixed by the same handyman who's been coming to your home for years.
Those are the kinds of ties that bind a family owned business with the community it has been serving for more than half a century.
And it's these ties that have helped Roque & Mark give back to the city where in 1965 a refugee from Lithuania teamed up with a Mexican-American entrepreneur to launch one of Santa Monica's most successful property management and real estate firms in its history.
A Tradition of Giving
The charitable work started early, when late co-founder Roque Rodriguez joined the board of directors of the St. Anne community youth group and his partner Albinas Markevicius—also known as Mark– began contributing to the local Red Cross.
In some cases, it was extending a helping hand to those in need, as when Mark joined other members of the Santa Monica Board of Realtors before the 10 Freeway was built and, in one day, painted the house of an elderly lady in the early 1960s.
Or when he would go door-to-door at Christmastime in the 1970s collecting money for the Salvation Army to help people in need. "We were going from real estate office to real estate office," Mark recalled.
Last year — amid a COVID-19 pandemic that all but paralyzed the region — was no exception. If anything, the company boosted its charitable efforts.
Roque & Mark ( Roque and Mark Co. ) personally delivered food to elderly tenants homebound during the virus, collected toys to give to needy children during the holidays and gave money to help the local Boys & Girls Club stay open when local schools were shuttered.
Roque & Mark ( Roque and Mark Co. ) also donated use of vacant land three years ago on Yale Street near Santa Monica Boulevard so Upward Bound House could host an urban garden. Local homeless or struggling families and children join volunteers in growing food, raising chickens, and enjoying events like a snow day for kids.
Harvest after harvest of fresh fruits and vegetables have been delivered to the non-profit that provides transitional housing for families in need.
"We see the families from the foundation visiting the site and learning about healthy eating and being able to take the vegetables home for meals, and we know this is the best use of this open space that we could dream of," said Zina Markevicius, Roque & Mark's vice president and Mark's daughter.
The charitable efforts the company embraced were ingrained early in Albinas Markevicius, who was born 90 years ago on a farm in rural Lithuania where he performed the chores required for daily survival and trekked to a two-room schoolhouse through the snow.
"My father has been working full time since he was 11 years old, and 79 years later he's still at it," Zina said. "His work ethic is incredible, but he always hearkens back to the memories of a more simple life and simple time on the farm."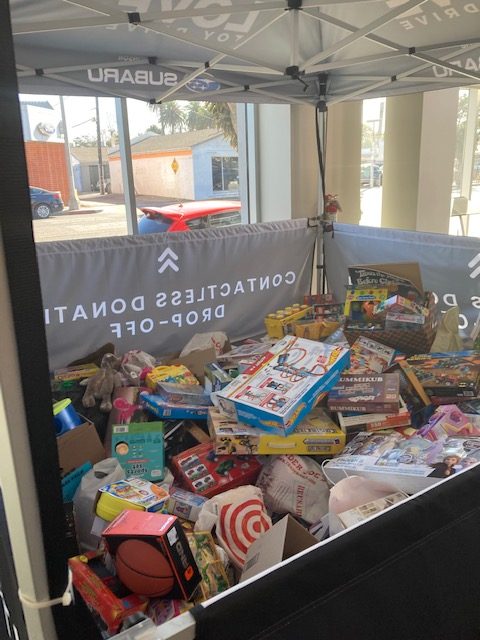 The Pandemic Hits Home
Growing food to survive drove home the need to help vulnerable elderly tenants afraid to venture out when the pandemic struck Santa Monica in March 2020.
"My father is a senior himself, and a part of the group that is at great risk due to the Covid pandemic," Zina Markevicius said. "We spoke about this difficult situation facing so many people and tried to figure out a way to step up and help the most vulnerable in our community in a tangible way."
By April, Roque & Mark ( Roque and Mark Co. ) partnered with Tender Greens to purchase fresh produce at a discount and started sponsoring and delivering gift boxes of fresh fruits and vegetables. The response from seniors was so positive, and the office staff was excited to participate.
Word got around about the senior gift boxes, so the company invited its community to join in to expand the project. They set up a GoFundMe page and invited property owners, tenants, contractors, and others to donate and sponsor a box for the elderly tenants. Staff members also made personal contributions.
The initial goal was $500. The drive ended up raising $3,662, enough to buy 135 care packages.
Roque & Mark [ Roque and Mark Co. ] staff delivered the 51-pound boxes filled with zucchini, onions, potatoes garlic and other vegetables and fruit. It meant less trips to the grocery store during the scary early days of the lockdown.
The produce boxes were a welcome gift to vulnerable tenants afraid to leave their homes. "I was just beginning to run low on things, and it arrived at the perfect time," one tenant wrote in a thank you note. "It was such a lovely surprise. It made my day!! Thank you!!!"
"Dear Zina," another tenant wrote. "Tender is what we all need in this hard challenging time. Truly appreciate the super positive affirmative action of being appreciated as a loyal 'eye in the sky,' 'boots on the ground: 'agent'!!! Stay well, safe and compassionate as you always are!"
One package may have saved a tenant's life. "We left the box, and no one took it," recalled Miki Dinning, property management associate who joined Roque & Mark ( Roque and Mark Co. ) two years ago. "The neighbors thought it was strange she didn't pick up the box." They called 911, and emergency workers found the elderly tenant on the floor and rescued her.
A Different Thanksgiving
By Thanksgiving, Santa Monica students had been out of school since March, with classes conducted online. Roque & Mark ( Roque and Mark Co. ) stepped in to help with a donation to the Boys & Girls Club to help provide a safe place for children to go during the school closures.
"It's hard to figure out how to work outside the home and have a child" who's not going to school, Dinning said.
The company donation went toward the club's remote learning pods for children from elementary through high school. It helps provide students with wifi for Zoom classes, tutors to help with schoolwork and dedicated desks they can decorate.
"It must be hard to be away from their schools and teachers and friends and playgrounds, but it's wonderful that here they have a safe and cheerful place to be and a desk of their own," said Zina, who was a volunteer and camp counselor at the Culver-Palms YMCA.
For the Markevicius family, it was a homecoming of sorts. "My brother played basketball at the Boys Club for many years," Zina remembered. "I spent many afternoons in that gym, sitting on the bleachers with my mom and with other big sisters. We would cheer on the teams and clap so hard and loud, that our hands hurt!"
Kids from Roque & Mark ( Roque and Mark Co. ) families have been playing basketball at the Club for years, she said. "It's known as a great place for sports, and that's been true for decades. We can't wait for this great tradition to resume after the pandemic is over."
Spreading the Holiday Cheer
When the holidays rolled around, Roque & Mark ( Roque and Mark Co. ) launched a drive to collect toys for the "Spark of Love" drive with fire departments and Subaru for local needy children.
Staff and contractors brought in toys including coloring books and maracas. "We let the tenants know there was a box to put the toys in in front of the office," Dinning said. There was also an option to drop off at other Spark of Love locations.
Soon the box was filled with Lego sets, dolls, books, toy cars and DVDs of the popular Disney film "Frozen."
It wasn't the first time the company had stepped up to help spread the holiday cheer during trying times. Two decades ago, after wildfires swept through the area, the late-handyman Bob Newbold helped organize a toy drive. Among the gifts Bob donated personally that year were children's bikes.
During the pandemic, Roque & Mark [ Roque and Mark Co. ] took extra care in where it spent its operating dollars. "A local business supporting a local business can do wonders," said Kristina Maciukaite, property management associate.
Office lunches under lockdown became an opportunity to support fellow Santa Monica institutions like Truxton's, Gilbert's El Indio, and Fromin's.
Other purchases supported Santa Monica cafes Priscio and Funnel Mill, both owned by couples working hard to keep their small businesses running under county restrictions.
A Long History
Roque & Mark's strong ties to the community go beyond seasonal drives or individual causes. Mark served as a member of Santa Monica College's Advisory Board for 15 years, and five years ago the company helped sponsor a community art exhibition at Barker Hangar at Santa Monica Airport, among other projects.
And for more than 55 years, Roque & Mark has supported Saint Casimir Church in Silverlake, which has served as the sanctuary of Lithuanian immigrants and their families on the West coast and continues to do so today.
The Markevicius family has deep bonds to the parish established as a mission church for those, like Mark, who fled their homes during the Nazi and Russian occupation at the end of World War II.
The deep family tradition has helped turn Roque & Mark [ Roque and Mark Co. ] into a working family with long memories tied to the same city for more than 75 years.
"People have worked here a long time," said Dinning, who thinks of the company as a family headed by its 90-year-old president and co-founder, Mark. "He comes in every day. He's here," she said. "That must be the reason he's healthy."
"I think everything stems from Mr. Mark," Maciukaite said.