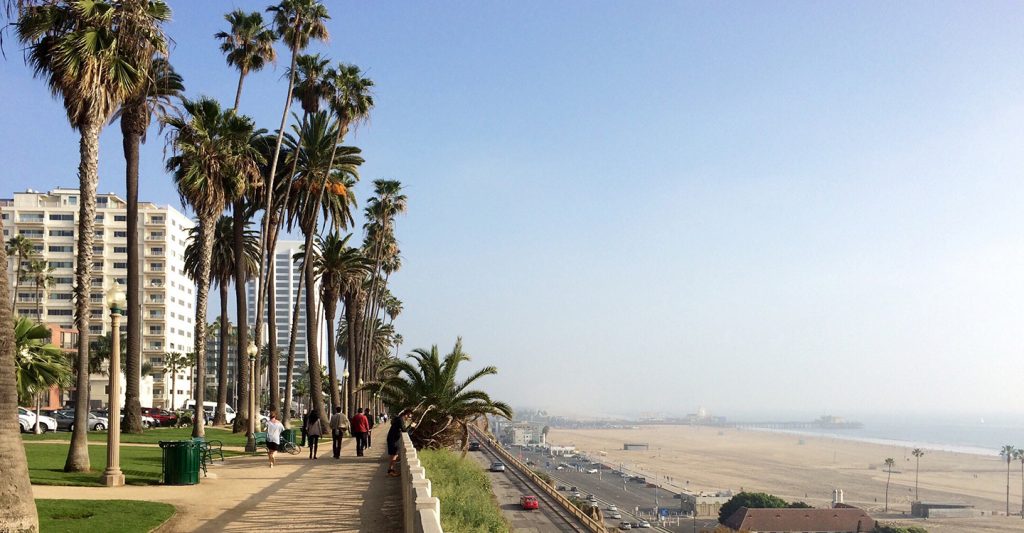 When an auctioneer first sold real estate in Santa Monica in 1875, he extolled an ocean "draped with western sky of scarlet and gold," a horizon "rimmed with a choice of purple mountains" and "a frostless, bracing, warm yet languid air braided in and out with sunshine."
Since then, the 8.3-square-mile city at the western end of fabled Route 66 has changed from a sleepy seaside resort to a bustling aircraft manufacturing town to a leading high-tech hub. But Santa Monica's natural beauty and cool climate continue to charm residents from all walks of life.
Today, Santa Monica real estate fetches among the highest prices in a region that is among the wealthiest in the nation. But it also offers a wide range of housing options and an urban edge lacking in other Southern California towns.
Whether you've just moved into one of the more than 30,000 apartments in the city or live in a house that was your childhood home, here's a quick guide to the beach city and everything it has to offer.
NEIGHBORHOODS
Stretching less than three dozen blocks in each direction, Santa Monica is composed of distinct neighborhoods, each with its own history and flavor.
The Downtown, the city's oldest section, has been transformed into Santa Monica's newest neighborhood, with more than 3,000 apartment and condo units built over the past two decades. At its heart is the famous Third Street Promenade and Santa Monica Place mall, international shopping destinations that offer fast food, as well as world-class cuisine, movie theaters and hotels, and a street scene enlivened by jugglers, dancers, and musicians.
South of Downtown Ocean Park features elegant wood-frame houses and 1960s and '70s apartment buildings. Once home to a storied pier, the seaside neighborhood included Dog Town, home to the skateboarding craze that swept the nation in the 1970s. Main Street, the neighborhood's shopping district, retains its old-time feel, although its bars, restaurants, and boutiques reflect a distinctly 21st Century vibe.
Bordering LA and stretching down the city's core, Mid-City is Santa Monica's entertainment hub, boasting major music, gaming, and internet companies, as well as Bergamot Station, a cluster of cutting-edge art galleries. The neighborhood boasts some of the city's top restaurants and includes residential streets lined with both old and new apartment buildings and single-family homes and condominiums.
Once home to McDonald Douglas—which built the airplanes that fought World War II and initiated the era of air travel—Sunset Park flanks Santa Monica's century-old Municipal Airport. Lined mostly with single-family homes, the neighborhood boasts an eclectic mix of restaurants and shops along Ocean Park Boulevard.
The City's most diverse area, the Pico Neighborhood is home to Santa Monica College, whose students hail from more than 100 countries, lending the neighborhood an international flair. Its main thoroughfare, Pico Boulevard, includes a smattering of neighborhood eateries, clothing shops and a live theater, and, down by the water's edge, the city's most exclusive hotels.
The North of Montana Neighborhood on the city's northern fringe features its most spectacular homes and most famous residents, including world-renowned entertainers, writers, and media entrepreneurs. Its main shopping strip, Montana Avenue, offers rows of upscale boutiques, wine shops, and restaurants that cater to the area's upscale residents and draw visitors from across the region.
WORKING
Santa Monica is home to a thriving tourism industry and has quickly become a leading high-tech hub, earning it the nickname Silicon Beach.
More than a quarter of the city's workforce is in the creative industry and tech sector, with tourism accounting for another fifth, including many of the city's blue-collar workers.
Among Santa Monica's biggest employers are two major hospitals—Saint John's Health Center and Santa Monica-UCLA Medical Center—and RAND, one of the nation's leading think tanks.
Santa Monica also boasts a healthy retail sector, especially Downtown, and a row of auto dealerships along Santa Monica Boulevard that help drive the city's sales economy.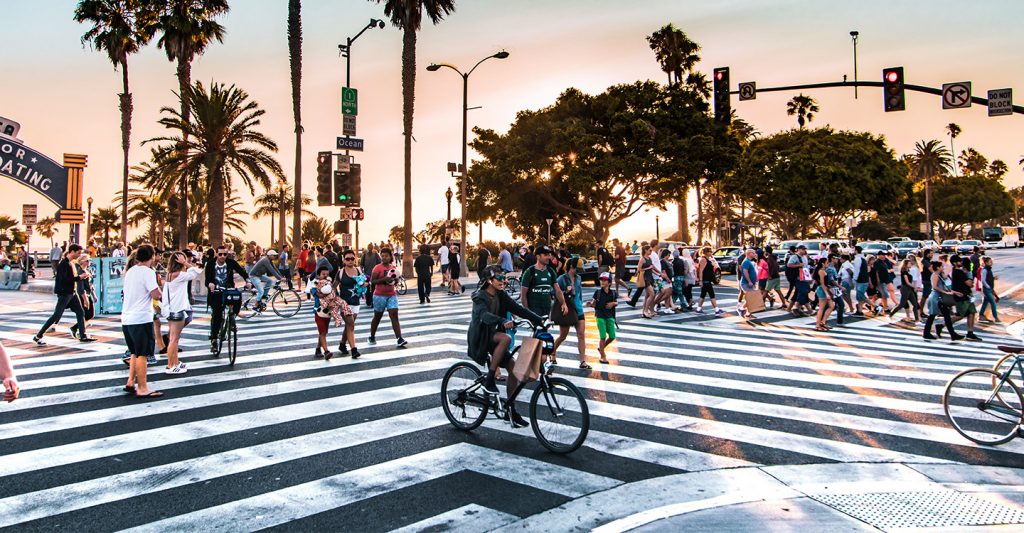 GETTING AROUND
In a region known for lasting romance with the automobile, Santa Monica offers a wide range of options for getting around.
The Big Blue Bus—made famous in The Door's epic rock song "The End"—takes riders far beyond the city's limits and is a convenient, and inexpensive, way to get around town.
The train line popularized in the movie "Who Framed Roger Rabbit" stopped running back in 1953, but 63 years later, the sleek new Expo line reconnected the beach city to Downtown LA, where passengers can hop a train to far-flung destinations across the region.
Closer to home, the sharing economy is changing the way people travel short distances without a car, and Santa Monica is at the cutting edge of the trend.
E-scooters—a local craze that quickly spread across the nation, and the world—and e-bikes provide an easy way to zip around town, while the City's Breeze bike share program offers rental bikes that can be dropped off as far away as Venice and UCLA.
PLAYING AND GETTING AWAY
Santa Monica has arguably one of the most popular and scenic playgrounds in the region—a beach stretching 3.5 miles along a scenic coastline that draws sun-worshippers, bicyclists and surfers.
The wide stretch of sand—which includes the fabled Muscle Beach that set off a nationwide fitness craze in the 1940s and '50s—features a winding bike path that leads south to Venice and north to Malibu.
Perched on a bluff high above the sand Palisades Park showcases spectacular views of the "scarlet and gold" sky and "purple mountains" extolled by the city's first auctioneer nearly 150 years ago. The park is the ideal place to jog or simply enjoy the ocean and mountain views.
North along the coast is the Annenberg Community Beach House, built from what was left of the 110-room estate of silent-screen actress Marion Davies, the mistress of newspaper tycoon William Randolph Hearst (the model for "Citizen Kane"). The Beach House is built around the restored pool and offers lessons, art displays, lectures, and performances.
The City-owned and operated Santa Monica Swim Center on SMC's main campus features an Olympic sized pool, as well as a splash pool, and offers swim lessons, fitness classes, lifeguard training, and special community events.
The most popular nearby getaway for locals is the Santa Monica Mountains, one of the most popular mountain ranges in California. The 3,000-foot tall range offers hiking trails that lead to wild wooded stretches that seem worlds away from the West's largest metropolis.
ENTERTAINING CULTURE
Santa Monica's "warm yet languid air" makes it an ideal venue for outdoor performances, screenings, and public art exhibits.
One of the City's most popular destinations, the historic Santa Monica Pier offers a free Twilight Concert series in the fall, as well as cultural programs throughout the year that include plays and movie screenings. The Looff Hippodrome, built in 1916, features a hand-painted carousel and was featured in the movie "The Sting," while Pacific Park near the western edge offers a bevy of rides, including the world's first solar-powered Ferris wheel that features nightly light shows.
The City's parks have become popular, and often unusual, venues for live performances. Every year, Art @ Tongva stages experimental performances that highlight the park's unusual geography of gardens, winding paths and urban vistas across from City Hall.
Reed Park offers outdoor concerts and performances, while the series Fireside at the Miles inside its 1929 Spanish Revival-style structure turns the large period fireplace into the community gathering space for the arts.
The Camera Obscura Art Lab at Palisades Park, which houses an 1898 camera obscura that projects images passing outside onto the ceiling, holds hands-on crafts, art, and cultural programs, as well as weekly workshops with resident artists.
In the Downtown, ROAM Santa Monica turns empty spaces into a revolving art gallery that exhibits large outdoor installations by emerging artists, while on the bustling Promenade free movies are projected during an annual movie series.
More traditional venues for the arts include Harvelle's, a music bar near the Promenade that has been open since 1931 and offers live blues and R&B, while the legendary McCabe's Guitar Shop on Pico Boulevard is a showcase for major folk recording artists.
For the more bookish, the Main Santa Monica Library Downtown offers hundreds of events, each year, including readings, performances, and lectures at its Martin Luther King Jr. Auditorium, with smaller offerings at the Pico, Fairview, Montana Avenue, and Ocean Park branches.
Santa Monica College—which is spread across three campuses—offers an embarrassment of cultural riches.  Its Center for Media and Design and KCRW Media Center stages free community events, The Broad Stage at its Madison campus features world-renown performers, while the Main Campus on Pico Boulevard offers ongoing lecture series, concerts, readings and film screenings. The Main Campus also is home to the Drescher Planetarium.
But of all the arts, Santa Monica is most closely tied to filmmaking–it is where some of the Silver Screen's legendary tycoons threw lavish parties in huge estates facing the Pacific, where screen stars like Cary Grant and Donald Sutherland chose to live, and where the Civic Auditorium once hosted the Academy Awards.
And it remains closely tied to the movies. Its plethora of theaters is one reason the American Film Market (AFM) descends on Santa Monica every November, turning the beach city into a mini American Cannes,  with more than 7,000 industry participants attending more than 300 screenings of movies from around the world that are open to the general public.
Cooking and Dining Out
Those who enjoy cooking can shop at one of Santa Monica's many organic-oriented supermarkets—or head down to one of the city's four farmer's markets.
The Downtown Farmers Market—one of the country's largest and most diverse grower-only certified markets—draws some 9,000 shoppers every Wednesday, including many of Los Angeles' top restaurants and chefs.
There are also three weekend markets that cater to a more local crowd. The Saturday Downtown Farmers Market, which showcases Certified Organic growers; the Saturday Pico Farmers Market at Virginia Avenue Park that offers prepared food, and the Sunday Main Street Farmers Market featuring food booths, neighborhood retailers, live music and arts and crafts.
For those who like to dine out, Santa Monica offers more than 500 restaurants and bars, including such local favorites as Chez Jay (which reportedly has a peanut that traveled to the moon) and Bay Cities Italian Deli, which offers imported foods and sumptuous sandwiches.
 From raw food to elaborate dishes prepared by world-renown chefs, from Spanish tapas to Hungarian goulash, Santa Monica has something to please every palette.
CENTRALLY LOCATED
Santa Monica may be literally at the edge of the Pacific, but it is an integral part of the Westside—just a short ride to funky Venice Beach and scenic Malibu, to Mar Vista and Marina del Rey, to Downtown Culver City and its popular restaurant row and quaint Westwood Village, too pricy Rodeo Drive and the restaurants and bars lining Santa Monica Boulevard in West Hollywood.
FAMOUS TRANSPLANTS AND NATIVES
Santa Monica is where the Door's Jim Morrison reportedly launched a singing career with a rousing rendition of "Louie, Louie" at a Downtown bar and Stan Laurel, one half of the screen's most famous acting duo, spent his final years in an apartment facing the ocean.
It is where cartoon character Popeye was born in a typhoon off the Pier and Raymond Chandler's private eye, Philip Marlowe, chased bootleggers and corrupt cops and politicians in a town called Bay City that was modeled after Santa Monica.
It is the town where world-renown architect Frank Gehry lives in houses he designed and where artist John Baldessari created many of America's best pop art works in what was once a studio on main street.
And it is the place you have chosen to call home.
Enjoy!